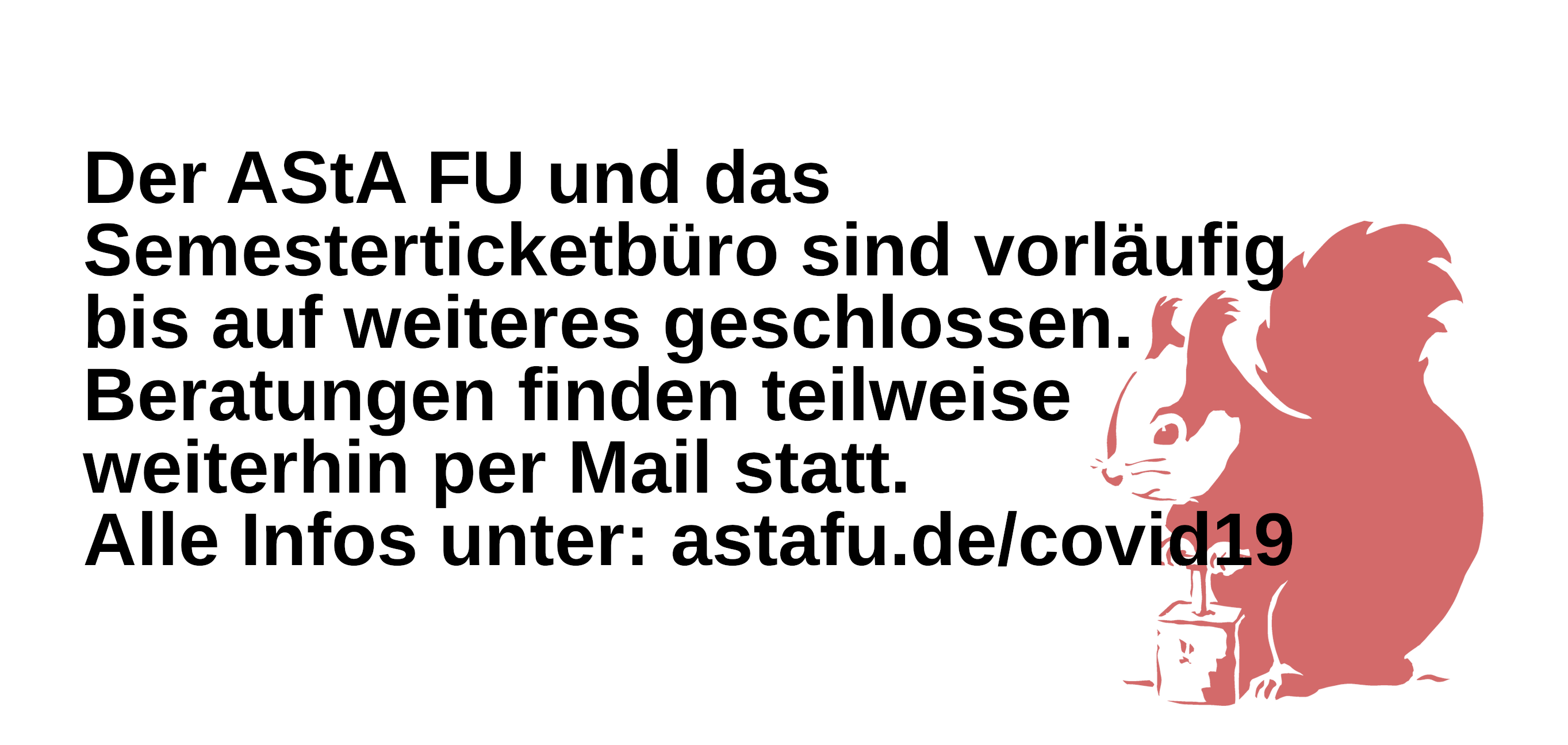 German Version: https://www.astafu.de/en/covid19
Information on the Corona crisis are listed in the three following sections:
We try to keep this page as up to date as possible and to include new information quickly.
Which measures and restrictions affect the AStA FU – and thus our services and accessibility – in times of the worldwide corona pandemic?
Telephone consultation hours:
Tue 10h - 14h
Thu 14h - 18h
All the following measures and restrictions apply for the time being until the FU resumes regular operation:
The AStA-Villa and the Semester Ticket Office are closed to the public.
At certain times we can also be reached by telephone and, by arrangement, necessary documents (e.g. certificate for student council work) can be collected or sent by mail.
The consultations of the AStA can still be reached by e-mail. Individual consultations have telephone hours. Please contact the consultations primarily by e-mail and leave a telephone number if you would like to be called back. The contact details can be found on the website of the respective consultation. https://www.astafu.de/beratungen
There are no financial plenary or cash hours. The technical equipment rental of the Medienwerkstatt and the bus rental are suspended.
The Semester Ticket Office is currently not personally available. However, it can still be contacted by mail and e-mail and will make every effort to remain available by telephone during office hours. All applications for exemption will continue to be processed, also because it is clear that many are dependent on money right now and there are many questions about the Semesterticket.
We are committed to ensuring that students are not facing disadvantages due to the current situation. This applies to BAföG as well as examinations but also to visa matters. The LandesAstenKonferenz Berlin (LAK) also provides information on this topic.
We support the demand for a solidarity semester, as well as those for immediate financial aid for students. Some student councils, university groups and initiatives have also decided to support the call for the solidarity semester. A list of the supporters at the FU Berlin can be found here. If you would like to be listed there as well, send us your logo and group name to fsref [ät] astafu.de
Following the demands of the "Solidarity Semester", the FSI GIP (from the Master "Gender, intersectionality and politics") has formulated its own open letter with the title "We demand: Together in solidarity!". This letter is also open for signature by individuals (students and employees of the FU). More information: https://fsigip.wordpress.com/2020/04/09/offener-brief/
Please follow the general hygiene recommendations such as regular hand washing. The FU Berlin runs an FAQ on "General Information on the Coronavirus" including health questions: https://www.fu-berlin.de/en/sites/coronavirus/faq/allgemein/index.html
The FU and other universities in Berlin are largely closed down. Current information about Freie Universität can be found on this page: https://www.fu-berlin.de/en/sites/coronavirus/index.html
Libraries are also closed, but are currently working on making circulation possible again. You can find information about the digital presence of FU libraries and their procedure for digitalization proposals at: https://www.fu-berlin.de/en/sites/ub/ueber-uns/news/corona.html
The official measures affecting all Berlin universities can be found on the website of the Senate Chancellery for Higher Education and Research: https://www.berlin.de/sen/wissenschaft/aktuelles/news/2020/corona-905968.php (in German)
For information on the state and nationwide level, we recommend the information page of the LandesAstenKonferenz Berlin (LAK): https://www.lak-berlin.de/coronavirus (in German). There you will also find useful links and tips for students, including a collection of counselling and support services, e.g. for psychological problems or those affected by domestic violence.
The Freie Zusammenschluss von Student*innenschaften (fzs) offers a comprehensive and nationwide overview of important information for students on its website: https://www.fzs.de/tag/corona-virus/ (in German)
The lecture period in the summer semester at the FU is to begin on April 20, and "courses scheduled for the upcoming summer semester at Freie Universität Berlin will be held using digital formats." Since the 11th of May exceptions for teaching and examination are possible again. The lecture period will end on 18th of July 2020.
The Senate Chancellery for Science and Research and the state universities of the State of Berlin have agreed on certain general conditions for the summer semester 2020. These can be read here: https://www.lak-berlin.de/coronavirus/#mozTocId66123 (in German).
Further information can be found in the FU's FAQ on "Impact on Studying, Teaching, and Campus Life": https://www.fu-berlin.de/en/sites/coronavirus/faq/studium-lehre-campus/index.html
There is a new arrangement for the semester ticket, which is provisionally valid until June 28, 2020, when carrying a certificate of immatriculation (the previous regulation was prolonged on April 27). If you still do not have a Campus-Card or lost yours, you are entitled to buy tickets from end of May onward. The university administration is allegedly working on sending tickets to students.
An overview of "BAföG in times of the Corona Pandemic" by Studis-Online: https://www.bafoeg-rechner.de/FAQ/bafoeg-und-corona.php (in German)
"Corona and financing of studies", legal possibilities for recipients and financing possibilities for all others. from the BAföG advisory service of the Referent's Council of the HU, status 19.04.2020: http://www.refrat.de/beratung.bafoeg.corona.html (in German)
The Federal Ministry of Education and Research ha announced to roll out a program of non-interest-bearing loans and a separate emergency aid program for students: https://www.bmbf.de/de/wissenswertes-zur-ueberbrueckungshilfe-fuer-studierende-11509.html (in German) You can find futher information about the loan program here. (in German)
The emergency-aid program is finally here. You can apply for financial aid for the months June, July and August, if your bank account has less than 500€ in it and you have lost your job. Applications are possible here: https://www.überbrückungshilfe-studierende.de/start
FAQ of the Federal Ministry of Education and Research (Bundesministerium für Bildung und Forschung - BMBF) on the official regulations: https://www.bmbf.de/de/faq-ausbildungsfoerderung-und-corona-krise-11215.html (in German) Some parts of the FAQ can be read in english here.
The studierendenWERK Berlin has opened a trust where you can apply for funding which is needed for technical equipment: https://www.stw.berlin/unternehmen/themen/antrag-technikfonds.html Applications are no longer accepted at the moment.
The FU has a separate FAQ section for foreign students: https://www.fu-berlin.de/en/sites/coronavirus/faq/austauschstudierende/index.html
The Federal Association of Foreign Students (Bundesverband ausländischer Studierender - BAS e.V.) represents the interests of foreign and stateless students as well as students with migration experience in Germany. In the current exceptional situation, it advocates the special situation of foreign students, as they are particularly affected in various ways. For more information please visit the Website: https://bas-ev.de/ and Twitter: https://twitter.com/BASDeutschland
Currently there are also employers who try to restrict the rights of employees. If you are affected by attempts to terminate or amend employment contracts, do not sign anything without seeking advice. This crisis must not be used to undermine existing law. This applies to student jobs at the FU as well as other student jobs.
Student employees at the FU can contact the Staff Council of Student Employees (Personalrat der studentischen Beschäftigten - PRstudB). The PRstudB has also published an FAQ on the effects of the corona pandemic on student employment at the FU: https://www.fu-berlin.de/sites/prstudb/news/Corona-Infos.html (in German)
The PRstudB of the Humboldt University (HU) has also written an FAQ, which also contains information about mobile work/home office and work and data protection: https://vertretungen.hu-berlin.de/de/prstudb (in German)
"Information, FAQs and support for university members", a collection on labour law from the university union unter_bau: https://unterbau.org/2020/03/30/corona-informationen-faqs-und-unterstuetzung-fuer-hochschulangehoerige/ (in German)
FAQ for employment law generally, which can be helpful for the many students who do not work at the university:
Neighborhood initiatives have been set up in almost every Berlin district, organizing, for example, shopping for people in self quarantine or childcare. You can find a chat group, probably also in your neighborhood, here: https://listling.org/lists/pwfjfkpjmesjjinm/solidarische-nachbarschaftshilfe