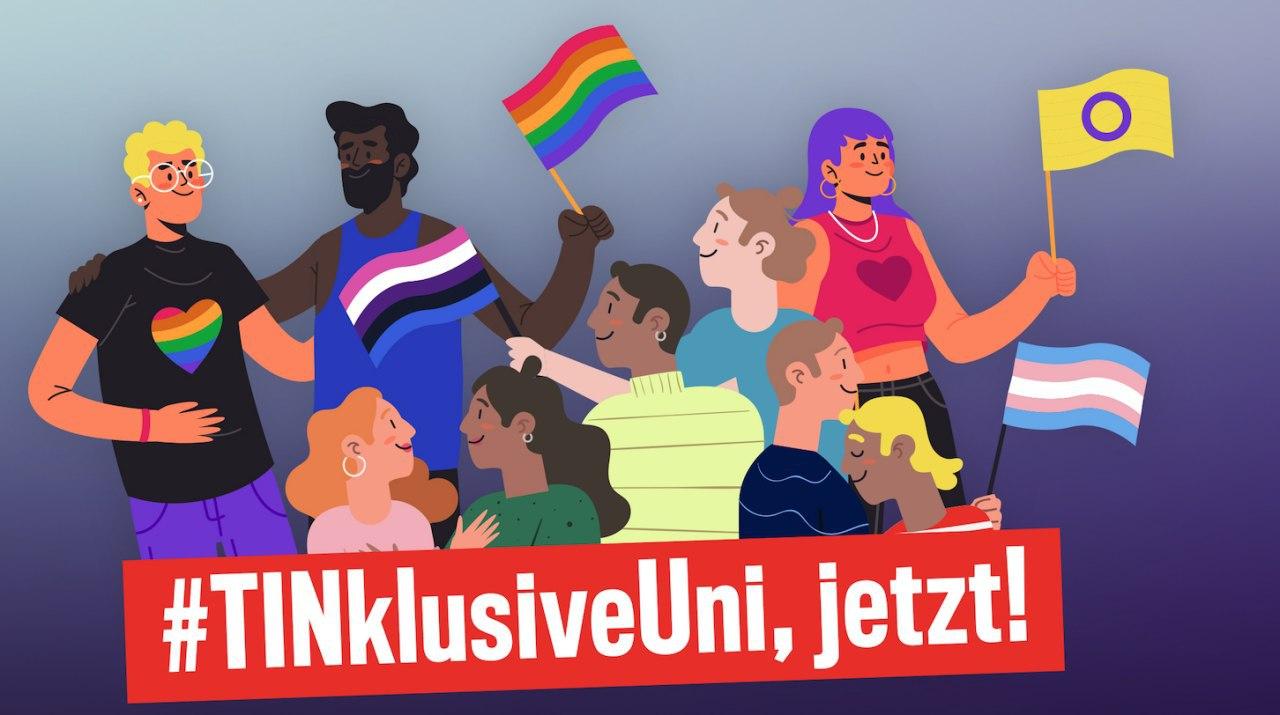 *English below

Einladung Online-TIN* Vernetzung

Bevor das neue Semester losgeht laden wir alle trans*, inter* & nicht-binären Personen (kurz TIN*)
zu einem Online-Vernetzungstreffen ein. Das Treffen soll zwei Teile beinhalten:
1) Socializing: Lernt TIN*Personen an Deiner Uni kennen 😊
2) Hochschulpolitik: Wo sind an der Uni überall Hürden für TIN*Personen? Wo fehlt es an verlässlichen Informationen? Was soll sich ändern?

Datum & Uhrzeit: 24.10.2020, 19 – 21 Uhr
Anmeldung und Fragen: per Mail an trans@astafu.de
Sprache: Deutsch, Englisch
Ansprechperson: Jonas (Pronomen: er)

Das Treffen wird voraussichtlich über Webex stattfinden und Ihr werdet rechtzeitig (ca. 2 Tage zuvor) die Zugangsdaten für das Treffen per Mail erhalten. Dabei könnt Ihr einen eigenen Namen anlegen, wenn Ihr den Meetinglink nutzt. 

Da auch TIN* Personen eine exkludierende Bezeichnung sein kann, möchten wir Euch wissen lassen, dass wir diese Bezeichnung mehr als einen Orientierungspunkt sehen für die Themen, über die wir vielleicht sprechen werden (z.B. Transition, Vornamens- & Personenstandsänderung, Pronomen, Community, Empowerment, Körperwahrnehmung, Diskriminierung, Anlaufstellen).

Bitte respektiert, dass dieses Treffen für TIN*Personen stattfindet. Wenn Ihr Euch weitere
Veranstaltungen vom Schwulen*referat wünscht, meldet Euch gerne bei schwule@astafu.de . Werdet Teil des Referats und erhaltet diese Anlaufstelle für Queers an der Uni!

Außerdem haben wir uns mit anderen Studis zusammengeschlossen, um die Diskriminierung von inter*, trans* und nicht-binären Menschen (TIN) an den Berliner Unis zu stoppen. Hier könnt ihr unsere Petition unterzeichnen:
http://change.org/TINklusiveUni
Wir freuen uns auf Euch!
Euer autonomes Schwulen*Referat im AStA der FU

Webseite: https://www.astafu.de/beratung/schwulbitrans
Beratung/Counseling: trans@astafu.de
Referatsmail: schwule@astafu.de
Telegram: https://t.me/queer_FU
Facebook: @Schwulenreferat im AStA FU
Möchtest Du von uns Updates bekommen? – Wir haben eine Mailingliste! Sende uns eine Anfrage an
schwule@astafu.de


*****************************************************

Invitation Online Get-Together for TIN*People

Before the new term begins, we want to invite all trans*, inter* and non-binary people (short: TIN*) to an Online Get-Together. This meeting will have two parts:
1) Socializing: Let's get to know each other better.
2) university policy: Where do you experience barriers at the university? Which important information are missing? What needs to be changed?

Date and Time: 24.10.2020, 7-9 PM
Admission and questions: via mail at trans@astafu.de
Languages: German, English
Contact person: Jonas (pronoun: he)

The get-together will probably take place via Webex and you will get your access-information via mail in time (approx. 2 days in advance).
We want to acknowledge that the term TIN* people can be excluding. Therefore, we want to make clear that this term should be considered mainly as a reference point for topics we might discuss (e.g. transition, names and gender marker change, pronouns, community, empowerment, body awareness, discrimination, support options).

Please respect that this event is for TIN*people. If you would like to have more event at the gay student union, write us an E-Mail at schwule@astafu.de . Become part of the union and preserve this space for Queers at our university!

We have teamed up with other students to stop discrimination against inter *, trans * and non-binary people (TIN) at universities in Berlin. You can sign our petition here:
http://change.org/TINklusiveUni
See you soon!
Your independent gay* student union

Website: https://www.astafu.de/beratung/schwulbitrans
Counseling: trans@astafu.de
Unions mail adresse: schwule@astafu.de
Telegram: https://t.me/queer_FU
Facebook: Schwulenreferat im AStA FU
You want to receive updates? – Join our mailing list! Send us a request at schwule@astafu.de

*Das Autonome Schwulen*Referat des AStA FU vertritt die Interessen von und setzt sich zusammen aus homo- und bisexuellen, queeren und trans* Studierenden der Freien Universität Berlin.