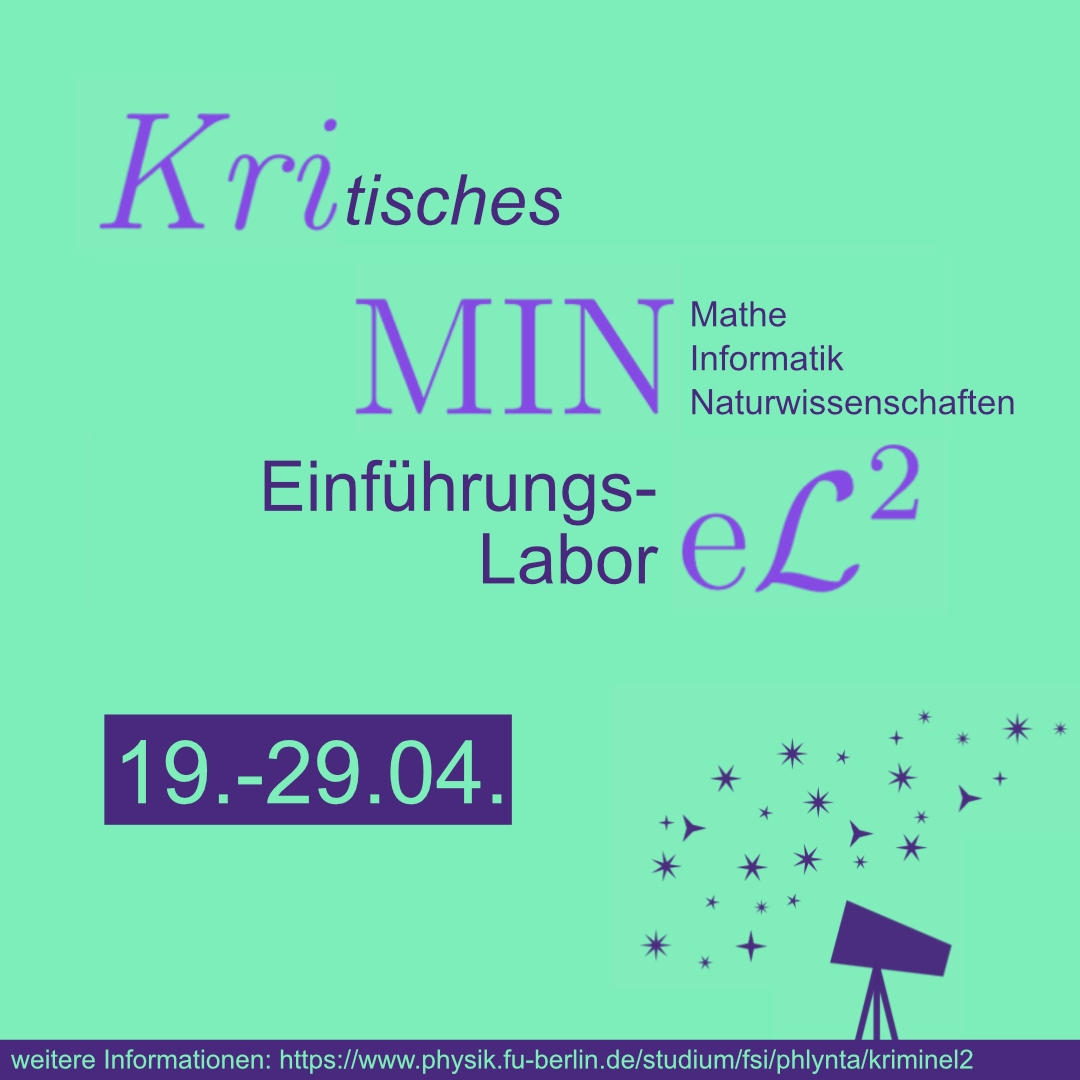 In einer Woche startet das Semester und damit auch das KriMINeL², das kritische MINT-Einführungs-Labor, das vom 19. bis zum 29. April stattfindet.
Feminismus sagt dir was, aber du weißt nicht genau, was das mit der Uni zu tun haben sollte? Dich stört, dass in der Lehre nicht gegendert wird? Du vermisst Unisexklos? Du würdest gerne mehr über Wissenschaft und ihre Verantwortung erfahren? Du wüsstest gerne, wie Du Dich in Gefahrensituationen selbst verteidigen kannst? Du hattest immer schon Lust, über die ethischen Folgen von wissenschaftlichen Erkenntnissen zu diskutieren? Du studierst Mathematik, Informatik oder Physik oder hast einfach Lust, dich mehr mit Naturwissenschaft und ihren gesellschaftlichen Bezügen auseinanderzusetzen?
KriMINeL² ist eine Reihe an kritischen Veranstaltungen, die am Anfang des Sommersemesters 2022 stattfinden. Damit wollen wir mehr Awareness für Themen schaffen, die sonst an unseren Fachbereichen und in der Lehre (noch) keinen Platz  haben.
Einige Veranstaltungen sind exklusiv für Menschen, die in der Gesellschaft Diskriminierung erfahren, um diesen einen Safer-Space zu bieten, andere für alle, um eine offene Kommunikation und mehr Verständnis anzuregen. Von entspannten Abendveranstaltungen über Workshops, Vorträge und Runde-Tisch-Veranstaltungen ist alles dabei -  also komm gerne vorbei!
Alle aktuellen Veranstaltungen mit Ort, Zeit und sonstigen Informationen findet ihr bequem auf unserer Webseite: www.physik.fu-berlin.de/studium/fsi/phlynta/kriminel2
Kommt vorbei, es wird toll!!!
***English***
Feminism means something to you, but you don't know exactly what it has to do with the university? Are you bothered by the fact that teaching is not gendered? You miss unisex toilets? You would like to learn more about science and its responsibility? You would like to learn how to defend yourself in dangerous situations? You have always wanted to discuss the ethical consequences of scientific findings? You are studying mathematics, computer science or physics or just want to get more involved with science and its social implications?
KriMINeL² are two weeks composed of several events that will take place at the beginning of the summer semester 2022. With this, we want to create more awarness for topics that otherwise do not (yet) have a place at our departments and in teaching.
Some events are exclusive for FLINTA* people to offer them a safer space, others for everyone to encourage open communication and more understanding. From relaxed evening events to workshops, lectures and round table events, you can find anything - so feel free to drop by!
All events with location, time and other information can be found conveniently on our website: www.physik.fu-berlin.de/studium/fsi/phlynta/kriminel2
Come around!